I first contacted Daniel Clowes with Ghost World the movie like the majority of people I guess. Of course I liked Ghost World. After some time I found Ghost World the comic book in one of George's bookshelves. Read it breathless. I am still not used to the snobbish trendy kids that gather at downtown overpriced comic book stores, so I try to avoid going there. Last year at Ghent, if I remember well, we bought two more comic books of Daniel Clowes. Caricature and Eightball.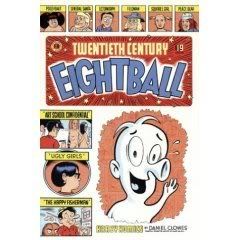 I've read both at the 10 minutes I spend from lying in bed to falling asleep, during the last month. Sometimes only one story per night, sometimes one page or two.
I didn' t even wanted to read more because I was afraid my two books would be over sooner.
I won't even try and make a positive critique on them.
If you have people-hating genes, ego-fat-as-my-ass personality and artsy-fartsy temperament you are simply obliged to read them.
If you feel (are) normal, you will still find (maybe more) things to criticize and hate.
In both cases you will find yourself laughing out loudly by yourself. Not a bad side-effect.
(oh and while you're at it, read
Maus
by Art Spiegelman. Guaranted Grabs-You-By-The-Neck storytelling.
Excuse me now I have to order and stock some more Daniel Clowes now.
x-post.
Current Mood:
tired